The same old sorry sorry stuff before, but soon my comic will take over this page. With the some of same characters: Connie (me), Iziah, Chauncy, Mack, and Sion. And the new characters: Bane ( my very good e-mail friend which you go to her site in my link page.), Marco ( A guy I made up), and Jinni ( the bad guy with the white-gray hair you can see in my updated artwork gallery).
Note: All Reject Characters are my properties.
And another note: These are REAL people just in anime. And those are their real names.

Connie
Job: Leader of the Rejects
Age: 17
Weapon: Sword
Height: 5'9''
Birth date: December 6
Birthplace: Nibelhiem
A big hearted tomboy with unbelievable power. Childhood friends of Cloud and Tifa. Moved to Midgar because her parents found her lying in the middle of the court yard of the Shinra Manor. What happen and why.
Leon
Job: Second in command
Age: 17
Weapon: gun
Height: 5'10''
Birth date: September 5
Birthplace: Midgar
A cool high school student. Born in sector 5 slums, the toughest and the roughest slums out of Midgar, but always has his head on straight. Helped Connie at school when she first came. A jokester, loves to see people smile. The motto that he follows" don't worry just have fun."
Iziah
Job: Reject member
Age: 16
Weapon: rod
Height: 5'7''
Birth date: November 26
Birthplace: Mideel
A cool headed kid with some strong attacks. Learn the art of rod fighting from his father at an early age. Another jokester who loves to make fun of the others with strong comments. Move to Midgar at the age 5, met Leon in Elementary school and became friends ever since. One of the smart ones in the group.
Sion
Job: Reject member
Age: 17
Weapon: spear
Height: 5'11''
Birth date: February 5
Birthplace: Costa Del Sol
Sion is the one that use tough-talking all the time. Everyone in the group thinks he is a little slow because the way he talks, so he gets mad and curses out the group most the time. One thing the group doesn't make him really mad because he uses strong psychic attacks. We all think he watch too much Poke'mon. Psy...duck???!!!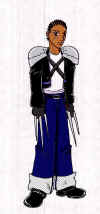 Mack
Job: New Reject member
Age: 17
Weapon:
Height: 6'0
Birth date:
Birthplace:
Job: Reject member
Age: 16
Weapon: Gloves
Height: 5 '7''
Birth date: September
Birthplace: Wutai
Chauncy
Job: Reject member
Age: 17
Weapon: Nuiucks
Height: 5 '7''
Birth date: February 25
Birthplace: Cosmo Canyon
Don't let the glasses fool you, he is not really bright. He is the most strangest out of the whole group. Born in Cosmo Canyon he pick up a few fighting skills. Also the other members of the group make fun of him because the way he acts, yes he seems smart and normal, but he is not.
There you have it. The members of the Reject. If you have any more questions about the members just e-mail me.
Take a minute and Vote.
Which is your favorite Reject?




Send

MultiVotespowered by Multicity
---
Just want to spread a little good news. I had some of my work displayed in a Burdines in South Beach, Fl and I have the Rejects displayed in a window. So here are some pics. And guess who is working in the window.*hehe*
More to come.
E-mail:

Main Artwork FFVII Gallery Vincent Stories Miscellaneous Webrings Links Dreambook